Great news for those excited for the evolution of technology and digital marketing: Apple will soon launch iBeacon. For a while now, Apple has used sensors on iPhones to map the space inside of stores, offices, special event locations, and various commercial buildings in an effort to map all large indoor places. Apple isn't the first technology heavyweight to undertake plotting the space inside large buildings – among many, Google offers Indoor Maps and GPShopper already has an integrated beacon system for its clients – but it could be this tech giant that brings beacons into the mainstream. However, iBeacon's primary goal is to help businesses market to customers and to track people while mapping is a secondary function.
iBeacon is a relatively new technology based on the tried-and-true Bluetooth technology. It creates a beacon, or invisible boundary, around specific regions that is alerted when a user enters the space, and that use can in turn be messaged. The actual beacons are small wireless sensors that transmit data to the iPhone using Bluetooth Low Energy (also called BLE, Bluetooth 4.0, or Bluetooth Smart). The future and its lack of privacy might scare some, but iBeacon is poised to generate significant revenue for shops while enhancing the shopping experience.
For example, if you walk past a Foot Locker with an iPhone 5S in your pocket, you are entering the store's iBeacon region. The iBeacon acts as an extension of your marketing strategy, transmitting microlocation-based notifications like customized coupons and even walking directions to the specific aisle where advertised items are located. The iBeacon can also send customers personalized messages and recommendations based on your experience with Foot Locker (or any other store for that matter) and your current location.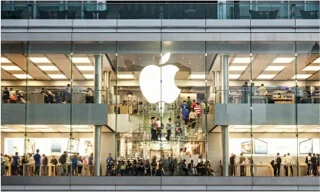 However, there is an information trade off. iBeacons can be used to ping customers passing by, but they also collect a lot of data. Privacy is hardly existent in our modern society, but many are certain to feel uncomfortable being tracked in a private place, although that conversation hasn't started in earnest, yet. iBeacons track a customer's movement from the time he or she approaches the store to the time the customer leaves, and every step in between. Retailers can then aggregate the data and analyze consumer behavior. Bluetooth works within a few feet and can be applied to a myriad of situations aside from shopping (like your boss knowing where you are, within a couple of feet, at all times).
iBeacon and Bluetooth are opt-in technologies, which means a sigh of relief, at least for now, for people averse to being tracked. For business owners, however, this means a narrowed impression pool. Retailers still aren't able to ping a random person standing a few feet away, only those that have positioned themselves to be contacted.
There will be a lot of speculation until the dust settles and the technology develops further, but it's not too early to get started. Apple is looking for early adopters, for retail stores to invest in the iBeacon technology and contribute to its advancement with real-world application and data.