So, you wanna know about SEO….
There's a reason why some sites always come at the top of the results list whenever you type certain phrases into your Google search bar. It's because they've mastered the art of SEO. As one of the most important digital marketing techniques out there, SEO is something every business ought to know how to rock if they want to stand a chance against the competition.
SEO is an acronym that stands for "search engine optimization". It is the practice of optimizing your site to make it rank higher and show up more often on popular search engines like Google. This is done through an ever-evolving collection of techniques. When your site is search engine optimized, it's easier for people to find your content.
You know the old saying "if you build it, they will come"? Yeah, sorry. That doesn't apply to the internet. With around half a billion websites live on the internet today, you can't just put another one online and expect people to notice. Your website ain't one of the Great Pyramids!
Don't worry. By learning about SEO, you're already on the right track to getting your site viewed by the masses.
What is SEO, Anyway?
SEO isn't just one thing. It's a whole bunch of things. SEO consists of many different techniques, including some listed below.
Keyword research
Creation of keyword rich titles, headings, and meta descriptions
Link building
URL structuring
Meta and Alt tagging
Organizing site architecture
Routine content updating
Did all of that just seem like a list of hullabaloo? No sweat. We'll cover all those terms in the pages ahead. But it's important to note that SEO doesn't stop there with the technical stuff. Now more than ever, it's tied to the general marketing of your business.
Cats & SEO
Back in the day, SEO was just SEO. Its sole purpose was to help your site show up in search engine results and make sure that it complied with all standards for web crawlers. Promotions and impressions were hardly a part of the equation. We'll go further into SEO's history later on, but right now this basic point is crucial to understanding the value of modern SEO.
Today, SEO goes hand in hand with content marketing (creating and promoting awesome content that attracts huge amounts of traffic), as well as PR. Nowadays, you can't have one without the other two, at least if you want to succeed. Good SEO helps standout content get lots of clicks and views, thereby bolstering your site's rankings and rep. It also accounts for the many current ways in which people share content, such as social media.
SEO techniques are not static things. Google's algorithms are constantly changing and evolving in their level of sophistication, meaning that you routinely have to adjust your methods to stay in step. You can no longer get away with cramming keywords into your content and spamming links. Google rewards quality, and now actually penalizes lazy or outdated SEO tactics.
Choosing the right keywords is very important for SEO. You want to select the keywords that are most relevant for your site. For example, an online business that sells brand name shoes will do well choosing keywords such as "Nike shoes", "Adidas running shoes", and "discount Air Jordans". Trying to get more views by associating itself with completely random keywords will only hurt that company's search engine rankings. Both Google and search engine users are smart enough to know that a shoe shop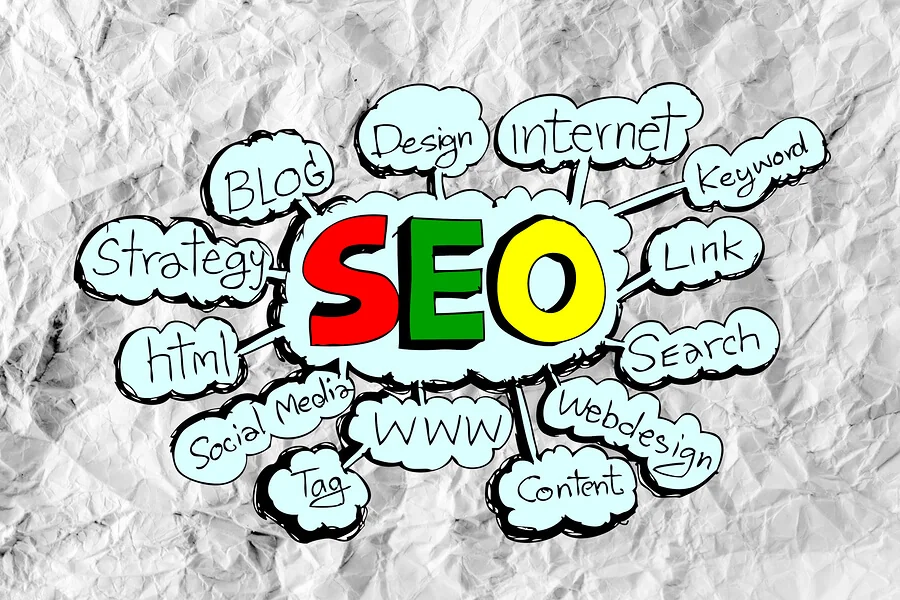 probably has nothing to do with "Funny Cat Videos". That's not SEO, that's SET: search engine tricking.
On a related note, if that business were to host a hilarious video of frisky felines playing with some shoes, it's completely reasonable to expect an explosion of traffic. Everyone knows that hosting comedic cat content is the #1 SEO technique of the interwebz.
Moving Forward
Hey, this SEO stuff doesn't actually sound all that complicated, does it? It only takes a little learning to brush up on the basics, and doing so will help you sell more with less chore. Read on for some SEO 101!
The Basic Terms of SEO
You've got a few terms and letters to learn if you want to have a good understanding of SEO. Even the name of the concept itself is an acronym! To keep confusion at bay and have you talking like all the modern marketing whizzes, take a look at the list of basic SEO terms below.
Search Engine: An online program that generates relevant results when a user types in certain words. Google is currently the most popular search engine.
SEO: Search engine optimization. It is the use of a variety of techniques to help a website and its content rank higher in the search engine results.
SEM: Search engine marketing. The use of SEO and other strategies to give a website the most exposure and visibility in search engine results, thus making it more likely for internet users to visit the site.
Keyword: Any word that an internet user types into a search engine. Key phrases can be a number of words grouped together. Users expect search engine results to be relevant to the keywords and key phrases they've typed in.
Longtail: Long key phrases that users type into search engines when looking for very specific results. Many search engine users use longtail queries.
HTML: Hyper text markup language. This is a type of code that is used to control the appearance and function of most things on the web. HTML is often used in SEO techniques, like meta tagging.
Meta Data: Simply put, it's data about data. HTML is used to make meta data, which can signal to search engines what pieces of information are most important on a site. Tagging is a part of meta data.
Algorithm: An equation that search engines use to measure how well your site relates to certain keywords.
PPC: Pay per click. This is a type of paid advertisement in which the company advertising pays a fee every time someone clicks the ad.
Link building: Placing links to a website on other parts of the web, such as in blog posts, forum posts, etc. This is an SEO technique.
Internal links: Links to other parts of your site that are used on your web pages. Using these well helps the crawlers scan your site more easily.
Sitemap: The architecture of a website. A page that displays all of a website's pages and how they link together.
SERP: Search engine results page. The page of results generated after a user types a keyword into a search engine.
Web Traffic: The amount of data a website's visitors send and receive. This is determined by how many visitors a site has, and how many of the site's pages they visit.
Impressions: The views that an ad or web page gets.
Crawler: Also known as a robot or bot. A crawler is a program that scans entire websites through their link structures to acquire data about them. A site must be crawled in order to appear in SERPs.
History of SEO
As we stated earlier this chapter, SEO wasn't originally so entrenched in marketing. Sure, obtaining high rankings was important if a website wanted to do well, but there wasn't nearly as much promotion involved as there is today. Now, with so many other sites on the web begging for views, the competition is fiercer than ever.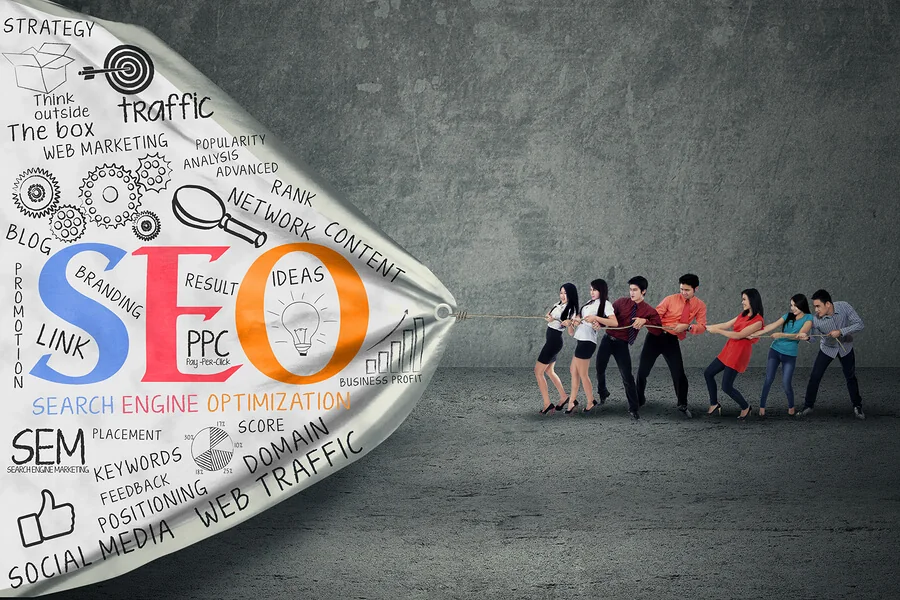 It used to be that you could just pick a few keywords to focus on and litter them throughout your website and meta data. That's all it took to get a good ranking in the search engines. So long as the crawlers could scan your site without a problem, it didn't even matter if the keywords actually related to the topic of your content. You could pull off the aforementioned cat video keyword tagging, no problem.
Easy peasy, right? Well, that was the problem. It was so easy to get good rankings this way that everyone started doing it. SERPs were getting littered with spam, and the search engines had to adopt stricter standards if they wanted people to keep using them. Eventually, keyword stuffing became a no-no. Crawlers started looking for links to sites on other web pages to figure out whether or not that site was well related to certain keywords, and those links had to be organic (links could not be bought or traded with other sites). Thus the algorithms continued to evolve, becoming more sophisticated. And they still do to this day, which means that SEO experts are always kept on their toes.
This is all done to make sure that spammy sites don't steal the limelight from quality web pages that are doing a good job of creating content users are actually searching for. You definitely want your website to belong to the quality club. Fortunately for you, it isn't hard to get in if you know what you're doing! And don't worry, there's no hazing involved. Wearing nothing but a tutu while running across campus will remain only a cherished memory of your college days.