As 2017 is coming to a close, we're wrapping up some of our favorite digital ads over the past 6 months ranging from the humorous, the adventurous, and the soul-touching. Check them out here and share with us your favorites we may have missed!
AirBnB X Lego
What happens when two wildly different, but yet both wildly creative and loved brands join forces? A Lego house.
Airbnb and Lego teamed up to offer one of the coolest Airbnb listings ever. With the launch of the new Lego House in Denmark, this unlikely pair saw an opportunity for a contest. A new listing on Airbnb explains that by answering one simple question, one lucky winner and his or her family will get the opportunity to spend the night at the Lego House. The question is this: If you and your family had an infinite supply of Lego bricks, what would you build?
Airbnb has consistently put out creative work that not only remains concurrent with their brand but incorporates other likeminded brands that elevate their message, with the Lego partnership serving nothing short of this. The Lego House will close to the public during the lucky winner's stay and they will embark on a journey through the house; each room, bringing a different experience. The basement serves as an homage to Lego's history, but the real destination is the bedroom, where the bed sits on none other than a giant pool of lego pieces.
Sign. Me. Up.
Burger King
Burger King's anti-bullying spot is the perfect balance of humor, sadness, and a little bit of genius. With bullying currently being a hot topic of conversation, Burger King decided to film customers' reactions when bullying goes on right in front of them. The sadness from this spot doesn't necessarily come from the kid actors pretending to be bullied, but watching as a large percentage of customers turn a blind eye.
The premise of the spot is that whilst bullying going on in the store, a BK worker would also "bully" some Whopper Jrs by serving it to customers after punching and smashing their meal. Here's where the  genius comes; the same people who got a "bullied burger" were also witnesses to a young boy getting bullied, however the majority of these people stood up and spoke up about their frustration with their whopper, often stepping right around the bullying.
Eye opening, and a flawless advertising move. Do you think this was a ploy to get reactions or do you think this was something that was really a concern for Burger King? Either way, success.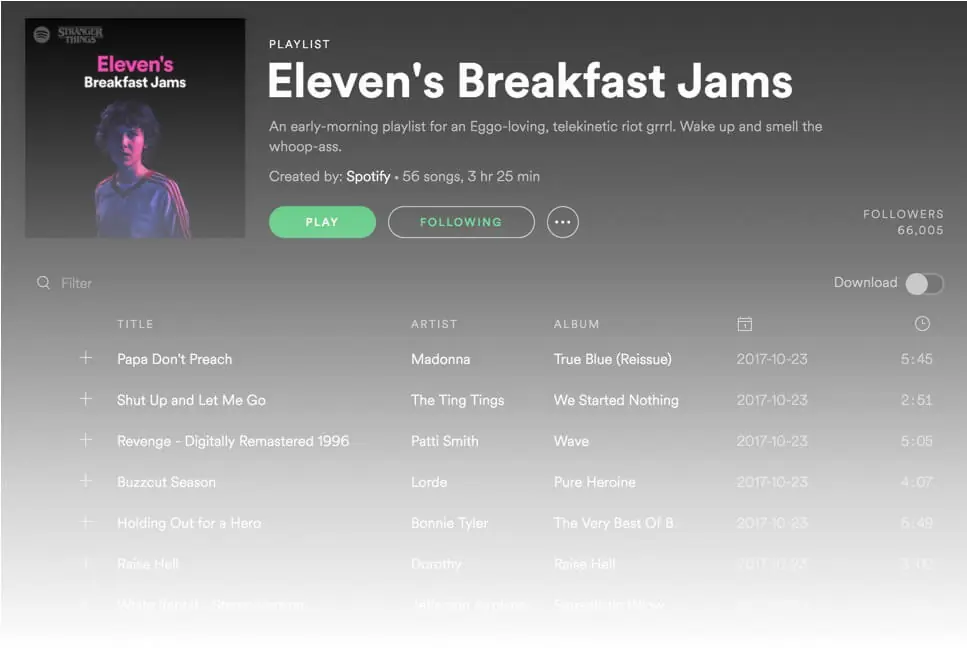 Spotify X Stranger Things
I think we're all still recovering from the lack of sleep and binging of Stranger Things 2 after its release a few weeks back. It's been an emotional roller coaster of anticipation, excitement, fear, hope, and sadness. After approximately 24 hours, the second season of Stranger Things has come and gone.
Whether you love this show for it's writing, characters, 80s references, music, the supernatural, or all of the above, you will love what Spotify is doing for this brilliant second act. Spotify took characters from the series while analyzing users' listening data to determine what character best suits them. Then, you get a killer playlist that tells the evolving story of the character and plot line in an unparalleled way.
For example, Eleven's playlist includes songs like "That's Not My Name," and "Shut Up and Let Me Go" (if you know, you know). When listening to these curated playlists, Spotify magically spins into the Upside Down and you're transported into the Stranger Things world. Checking this out is a must, you can get matched to a playlist here.

TK Maxx
London's Wieden + Kennedy teamed up with TK Maxx (an affiliate of the American retailer, TJ Maxx) to push out their "White Christmas" campaign. The department store is hiding two foot snow globes all around their stores as well as online for customers to find. If one finds a magic snowglobe, they can arrange for TK Maxx to send a crew to their home for their own personal "White Christmas" complete with snow, and a lot of it.
The next campaign spot due to explain the White Christmas miracle is set to come out on December 13th.
"We wanted to create a real and magical experience for our shoppers which is great fun and one in which everyone has a chance to participate," says Deborah Dolce, group brand and marketing director at TK Maxx, adding that it's "a snowy version of a Golden Ticket."
Even if it does snow naturally, the winners shall not worry. The creative director of W+K says they still have something up their sleeve. Wonder what that could be.
Chemours
A chemical company, Chemours, teamed up with Ogilvy for three, 3 minute YouTube videos that aim to encourage young girls to pursue careers in sciences. The videos highlight some of history's most prominent women that made impacts through their careers. They include Josephine Silone Yates, Marie Curie, and Mary Engle Pennington."
The videos come in the form of monologues with the voices of young girls portraying these historical figures. They each tell a story of how the women over game 20th century trials and tribulations.
Not only does this campaign tug at the heartstrings of many, it fits perfectly in a time when women's rights are being spoken on more and more. Check it out, and prepare to be inspired.