In Illinois, the Village of Rosemont and MB Financial Park are getting into digital displays, social media and 13 interactive exhibits with the Big Ten Experience, a multi-media museum showcasing conference highlights dating back to 1896. Blending new media with traditional museum displays, the Big Ten Experience includes:
"Game On" Interactive Game
Visitors can try to catch a football, stop a soccer ball or block a hockey puck with this interactive game.
Big Ten Connect
Live footage from Big Ten television partners is shown on five screens. Interaction with the conference and schools' social media pages is also accessed via BTN2Go on one of four iPads.
Football/Basketball Touch Screen
Guests can enjoy the sport of viewing—from memorable moments in both men's and women's basketball to every Rose Bowl Game program dating back to 1902.
Heisman Trophy Photo Op
Selfies can be more exciting when one poses in this picture-perfect set up.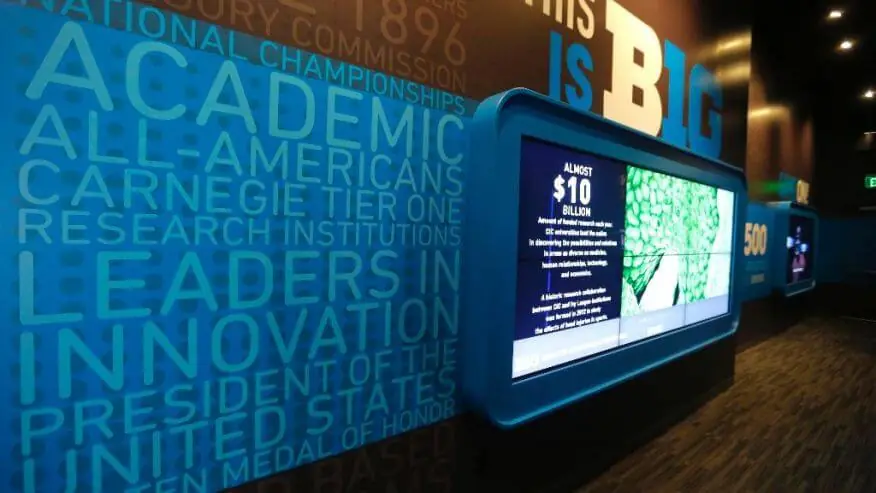 Big Ten Vault
A video monitor with every Sports Illustrated magazine cover featuring a Big Ten team stand back to back with another monitor that shows video vignettes of student-athletes.
Big Ten Slideshow
Old fashion slides reveal photos highlighting Big Ten campuses, architecture, alumni and more.
Current Big Ten Champions
This interactive touchscreen features every Big Ten Championship team, NCAA Championship team, and more.
Big Ten Theater
A series of three-minute films take viewers behind-the-scenes in a variety of sports including basketball, gymnastics, hockey, lacrosse and volleyball.
"This exhibit provides the perfect way to celebrate the diverse and talented participants of the Big Ten," explains Rosemont's Mayor Brad Stephens. "It will bring a fresh and excited audience to MB Financial Park that will enhance the Rosemont community."
The Big Ten Experience is located at 5440 Park Place in Rosemont. The museum is open from 8 a.m. to 6 p.m. Monday through Friday and 11 a.m. to 6 p.m. on Saturdays and Sundays. Admission is free for all visitors‎. For more information, visit www.mbparkatrosemont.com
Photo: (AP Photo/M. Spencer Green) The Associated Press