Let me introduce to you three local coffee and social media guru's.
Chicago based roasters, Bow Truss, Next Door Chicago and Metropolis Coffee have carefully crafted the perfect brews as well as social strategies. As for any business, taking a product and trying to connect it with your customers takes an effective marketing strategy. It has to be unique and not too self-promoting, or the brand doesn't quite have that sticking power. The key is to associate that product with a personality, so that the attention and engagement flow naturally.
A small business that is beginning to launch into social media can easily become spread too thin. Trying to cover all social platforms that are available, without having the relevant content ready to consistently update does not retain traction. Seeking what message, image and engagement you feel best aligns with your social strategy will help you determine what platforms to utilize.
Engagement is what makes social mediaworth business sense. Here are some tips on what these social media and small Biz pros are doing so that you can go and get your fans talking!
So, onto the guru's…
Bow Truss
Create engaging activities. Bow Truss teaches Manual Brew Classes, so you can sip your coffee like a true connoisseur. Take a look at this Instagram post and note why it is perfect.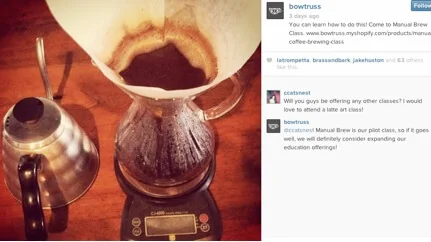 Info about the class gets the people in the door
The link = Call to action. Tell your customer what you want them to do!
Great imagery. Capture something that looks as good as it tastes, who wouldn't want to share this!
Next Door Chicago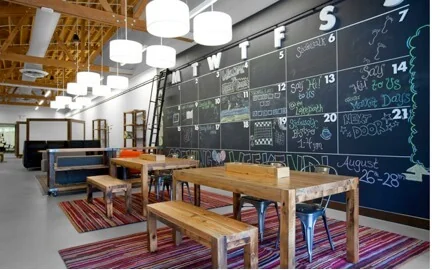 Create a sense of community. Small business owner or
entrepreneur
with no office? No problem! Next Door Chicago invites you to use their (extremely creative!) space for meetings. What's more is that they are educators. They teach
free classes
and even personal
coaching
, specializing in financial management and budgeting. These
community
interactive events are dispersed through their social platforms, giving customers and fan an opportunity to engage about something they feel that they are apart of.
Metropolis Coffee
Be the expert. Metropolis understands the importance of a perfectly dripped shot of espresso and the art of steaming milk to quality froth. Although we can taste their expertise in their products, they go the step further and showcase their talents on YouTube. It instantly personalizes the brand and process.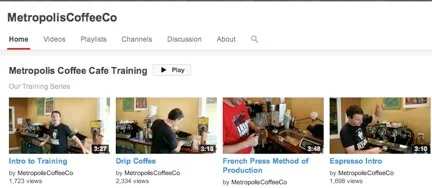 The trick here is to realize what you specialize in and use that to connect your social presence. By constantly maintaining a personable presence and using these engagement examples, you will immediately see an increase in customer engagement.
Pro tip: make sure you quickly respond to your customers RT/ Mentions and questions, you won't believe how much they will love you for it!