Wow, we can't believe we're saying this, but we're already three months into 2021.
With each new year comes exciting new technologies, ideas, creations, and business ventures. It's about that time where we pause, reflect on last year, and then eagerly explore what might be ahead for strategic branding. We're sharing our forecasts in a multi-part series, starting with some crystal-gazing from our Creative team.
Last year may have been a little hard to call… however, many predictions made by leading trend experts still came true. 
As you consider what 2021 may have in store for you and your brand, we at Mabbly believe that this year will give you some of that breathing room you've been looking for: from a "Back to Basics" approach in visual identity, to Gen Z re-inventing the feed, to large corporations going a little flatter in illustration, and watching homemade honey brands come alive… 
In taking a look back and gazing forward, here are 8 Predictions for Brands in 2021.
Socially-Responsible Design
More than ever, this is the year people crave community and that extra spark of emotional connection. A consumer brand leaning on periodically stating their mission will no longer cut it: to build audience trust and brand loyalty, companies will have to find ways to connect their perspective with consumers at every single touchpoint. This means everything from projecting messages with a more human, organic voice to sending out products in eco-friendly, sustainable packaging. 
Every customer experience needs to be cohesive with the brand's overall mission—from their website landing page, to the unboxing, and their social media engagement. 
With more brands picking up on this trend, we're most excited to see how brands lean heavily on natural designs and weave storytelling with practical action into their visual identity.
Back to Basics
We can't even think about capturing a consumer's heart without, first, capturing a consumer's attention. 
2021 is the year of stripping things back and approaching minimalist principles with a heavy focus on accessibility: putting the brand's differentiator at the forefront. 
For some companies, providing a heavier emphasis on their products and services means more timeless typefaces, grid-based systems, or letting simplicity itself be the enhancement. Pulling back the clutter can allow space for other visual elements to shine, such as product photography or hand-drawn illustrations that can be symbolic for the brand.
For others, it might mean simplifying brand identities from an older era to strengthen existing customer relationships and evoke a strong sense of whimsical nostalgia.
Solving "Post-Social Media" Human Connectedness
Let's face it: every emerging industry has a bubble, and while social media has proven itself to be an integral part of our lives—the social hype bubble may be popping soon.
We see that more Gen Z users are going private on Instagram, falling wary of their millennial predecessors who willingly "sold out" in every way, thanks to influencer culture going mainstream and a rising culture of isolation.
It shouldn't be a shock that Gen Z is heavily influenced by nostalgic totems, collaged with progressive action items of mental health, community, and uninhibited expression. I'm talking about new, supportive micro-communities forming around cassette tapes of emerging Soundcloud artists, made by extremely niche TikTok artists they found from a foreign, fantasy RPG.
Designers will see this if they haven't already—and jump on it. We've exhausted the band-aid theme of "stay connected, even when we're far" to a frustrating (almost laughable) degree. Now it's time for Real Connectedness—none of that virtual Splenda.
This "trend" in thinking will lead designers to move beyond the screen, and not solve every business problem with an app.  Imagine advanced tailgating, where your car becomes your personalized mobile space; interactive, public installations that provoke living conversations; evolved storefronts that communicate what's inside with respect to capacity restrictions; DIY Skateparks that provide space for expression and trying out new skills.
The Rise of Micro-Brands
We spent a lot of time at home last year… a LOT.
And we may have gotten bored once or twice and tried a new craft. Some of us tried that new craft, and liked it so much that you said "hey, maybe I should sell this to make some extra cash?"
With the rise of TikTok giving us a sugar rush of energy and accessibility to new ways of doing crafts, solopreneurship will most likely continue to grow, whether as someone's main gig, or a little safety net on the back burner.
This cornucopia of micro-brands will bring a greater sense of freedom and avant-garde expression to the ecosphere of branding.  New brands will break-up stale standards that have accumulated from the last wave of small business outbreak, and open new ways of thinking around identity.
Enter: wild, experimental typefaces; pungent, highlighter brand palettes; amateur-illustrations plastered on web banners.
You could sell local honey jars through a subscription service, or set-up a disco-themed sourdough business—there's nothing off the table of ingenuity in a world of people growing ideas from their quarantine headquarters.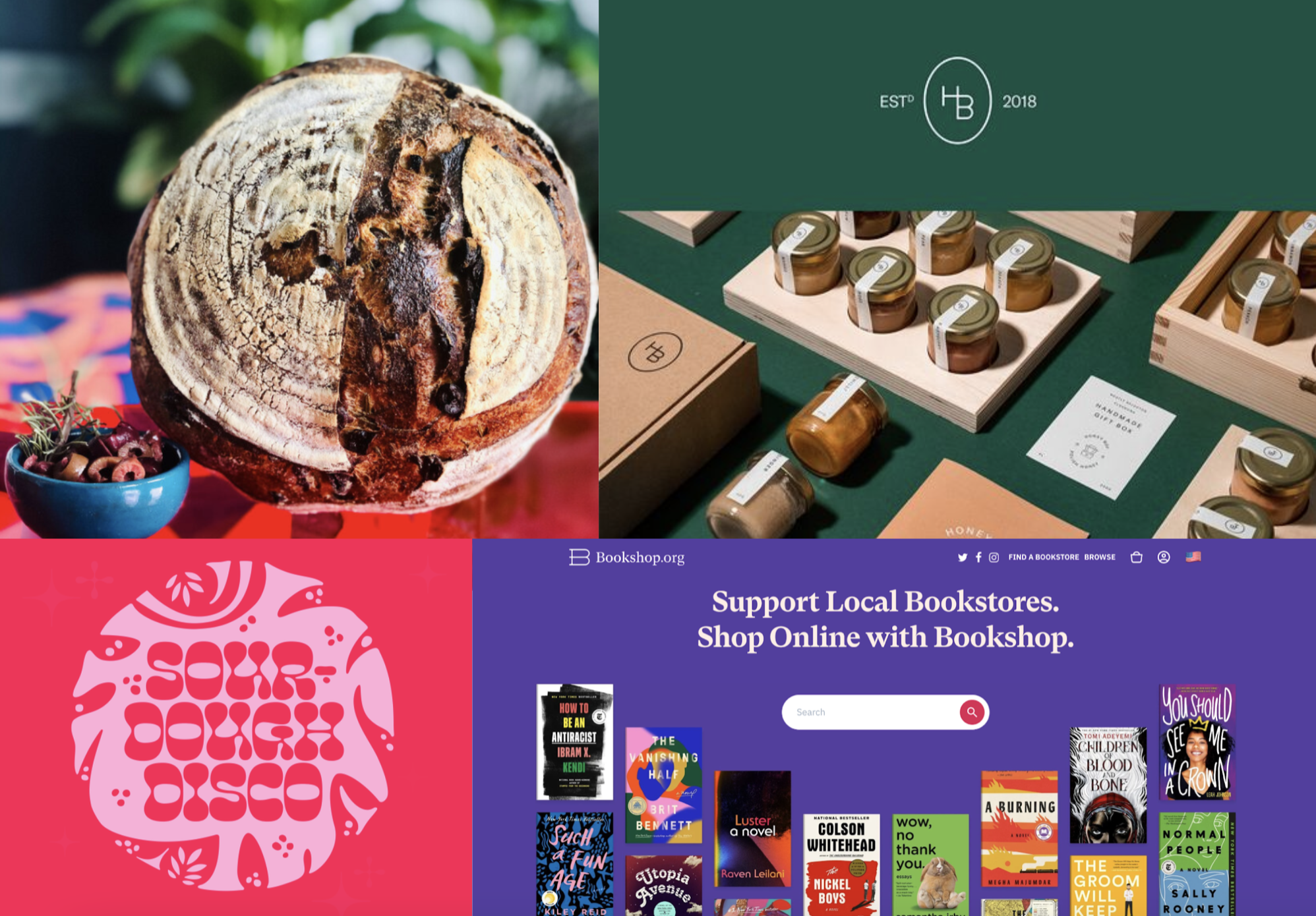 Bigger Brands get Funky and Crafty
As individuals see their endeavors on the rise, we'll watch larger companies integrate this movement to meet people in the middle.
Brands will start bringing this resurgence of the "arts and craft movement" into their makeup. Why not use your resources as a larger company to refine the odds and ends of ingenuity through sustainable practice?
This isn't millennial "vintage" or simple "natural materials" like we've seen in recent years. There's a funky twist that acknowledges good branding, with new takes on old favorites. This can range from cottagecore fantasies to tie-dye patchwork from designer brands.
The point is, masses of individuals are shifting the tides for businesses through a group mindset as we've never had before. Your voice always matters.
Flat Vector Design
2020 brought hurdles of all sorts, one of the larger obstacles being the absence of personal connection. 
For companies that rely on humans (videography, photography) to connect brands with consumers, finding that type of connection was no longer feasible, and a new type of connection needed to be made.
Brands are leaning toward art and illustration to fill the void of the human connection— and finding more can be done through its emotive nature. This opens doors to different visual avenues and steers brands toward alternative, new identities.
Flat vector design offers a clean approach to representing ideas. The opportunity to connect with consumers is transparent with a simplified look, allowing the design to be understood quickly. With the traditional attention span being low, and multiple outside factors influencing thought, the speed to reach the consumer needs to be increased, and simple, emotive illustrations do just that.
A Continued Rejection of "Picture-Perfect" Feeds
One thing we'll see on the rise in social media is people creating highly impactful pieces of stand-alone content. 
People will be less focused on creating a "full feed" that is cohesive and blended (i.e. rows that are interconnected, one-color profiles, etc) and we'll see a move into single pieces of content that are more robust and can stand on their own and be shared.
The most striking examples will include educational content pieces, like some of the infographics we saw in response to BLM and the election. These content pieces serve to educate and get a message out en masse—which rarely fit within a "curated feed."
We're pumped to see things like this because it gives a deeper purpose to some of our mindless scrolling.  It gives us content that is not only easy to digest, but highly impactful and shareable.
Photo/Caption Combos Will be No More!
Gone are the days of mindlessly scrolling through static photos across social channels. Between video posts, IGTV, Reels, Stories, and other emerging features, brands will level up by engaging with their audiences in a multitude of ways to remain relevant and up-to-date with these platforms.
We will continue to see content that isn't just repurposed to these outlets but made for them, specifically. They'll use the creation features found natively, within apps like TikTok and Instagram.
There's always a group of trendsetters: people making reels before everyone else, and navigating to experimental add-ons. Since we're starting to move from that stage, the amount of content and creativity we'll likely see this year will be super exciting. We will begin to see a great level of engagement that inspires us to learn more and try new things on these platforms.