Netflix is not only breaking standards with how they produce shows and movies, but also with their unique marketing campaigns. Last year alone, they employed a number of guerrilla marketing tactics that generated significant amounts of buzz: both online and offline.
Guerrilla marketing is a form of marketing that focuses on low-cost, unconventional tactics that generate maximum buzz. The term was coined by Jay Conrad Levinson in 1984 after guerilla war tactics, such as ambushes, hit-and-runs, sabotaging, and petty warfare. Using the same elements that make these war tactics formidable, guerrilla marketing relies heavily on energy, creativity, and surprise.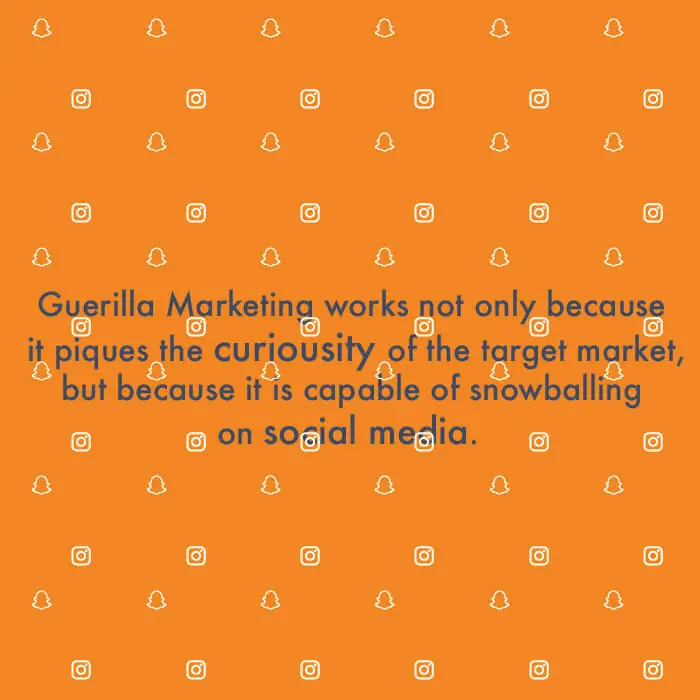 Guerrilla marketing is often used by small businesses with limited budgets but it can be just as effective when harnessed by large corporations. Coca-Cola used the tactic with their Coca-Cola Happiness Machines, which gave people anything from pizza to flowers. And, when Chipotle gave away free burritos to anyone who dressed like one for Christmas, that too was an effective use of guerrilla marketing.
Though a few larger companies have dabbled with guerilla marketing, Netflix has made it a way of life, from their promotion of Narcos and Stranger Things to Orange Is The New Black and the Gilmore Girls.
Here's how they generated a lot of buzz with non-traditional but fun advertising:
Doing Lines with Narcos
Netflix hired DonerLA to create a marketing campaign for the third season of Narcos. The ad agency dialed in on recreating an element of the LA drug scene back in the mid-90's, when the Cali cartel was at the height of its operations. To do this, they stuck mostly transparent stickers with images of rolled up dollar bills peppered with coke residue on horizontal surfaces in nightclub bathrooms across Los Angeles, Miami, Chicago, and New York—because clubs were where a lot of people were doing cocaine in these cities during the 90s.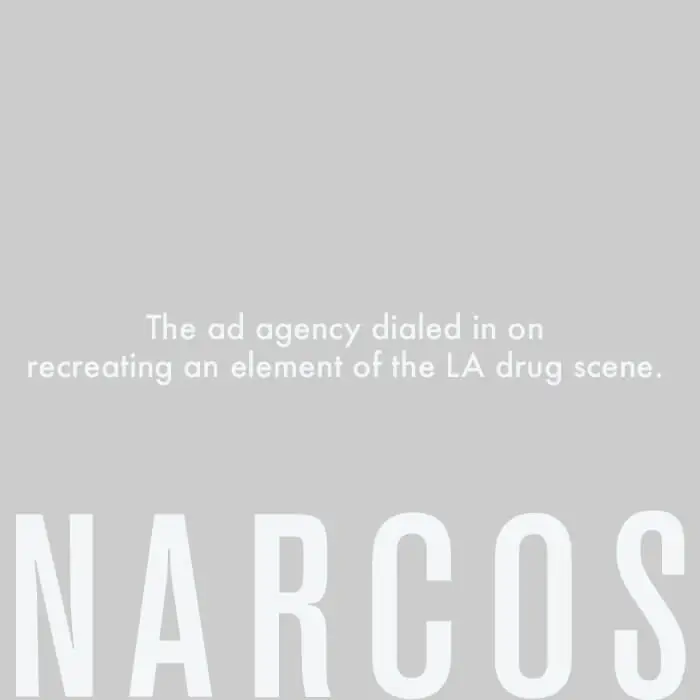 Some of the stickers read, "Here in the 90s? There's an 80% chance this powder came from the Cali Cartel". There was also Netflix and Narcos branding on the stickers.
Experiential Guerrilla Marketing with Stranger Things
To promote the second season of Stranger Things, one of Netflix's best original shows, the company brought the strangeness of Hawkins, Indiana across the Atlantic to Milan, Italy.
One day, Milan residents woke up to find a giant billboard in Piazza XXIV Maggio with a hole torn out of the center. In Piazza del Duomo, there was a phone booth and a broken down pickup truck in the square near the San Lorenzo's columns.
Each of these items prompted people to call a certain phone number. When a person did, Dustin, one of the show's most lovable characters, answered and gave them instructions to lead them on a treasure hunt.
This type of experiential guerilla marketing is especially effective because it encourages the public to interact with the brand. Like any marketing campaign, including a call-to-action increases impact.
Guerilla Marketing Outside with Orange Is The New Black
Even before the guerrilla marketing campaigns for Narcos and Stranger Things, Netflix was thinking outside of the box. For the season three premiere of Orange Is The New Black, the company changed the facade of a building in Paris to resemble a prison. Inside the cells created on the outside of the building, hired people played the roles of inmates, clinging to the bars and looking down at people as they passed.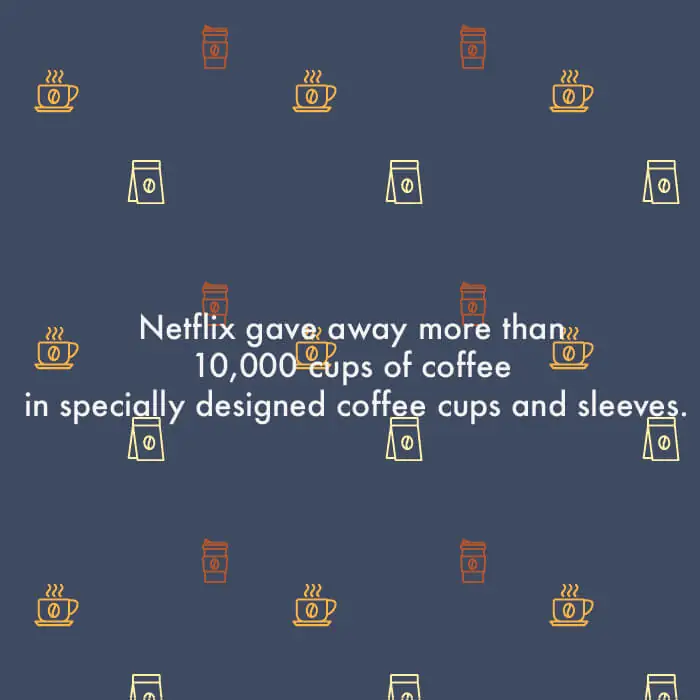 As part of the campaign, a video was produced that shows the inmates being loaded up on a bus and transported to the prison front.
Guerrilla Marketing Goes Local with Gilmore Girls
With a similar idea of converting a real-world space into a Netflix fictional world, the company transformed more than 200 coffee shops across the U.S. and Canada into the "Luke's Diner" featured in Gilmore Girls. The campaign marked the return of Gilmore Girls to TV via Netflix. In addition to giving people the chance to sip coffee at "Luke's Diner", Netflix gave away more than 10,000 cups of coffee in specially designed coffee cups and sleeves. The company was doing everything it could to let fans experience their own local version of Stars Hollow.
One aspect of this campaign that made it so successful was how Netflix partnered with local businesses, bring the brand and Gilmore Girls deep into local communities. Allied Experiential, the agency in charge of the project, shared details regarding the effectiveness of the campaign on their website. It's important to remember that even if a campaign is working outside of the box, it's still essential to measure results.
Guerrilla Marketing Event Ambush with 'Netflix is a Joke'
In September 2017, billboards with the words 'Netflix is a Joke' popped up in New York and LA, leaving people confused. Many thought that they were part of a smear campaign by a bunch of Netflix haters. Social media sites lit up with the images as people tried to make sense of the billboards.
As it turned out, they were not created by people who hated Netflix. They were created by Netflix as part of a scheme to ambush the Emmys. During the award ceremony, Netflix released a promotional video that featured clips from some of their original dramas, such as Orange is the New Black and House of Cards. In the midst of the drama clips, comedians, such as Jerry Seinfeld and Ellen DeGeneres, appeared on set and cracked a few jokes about what was going on.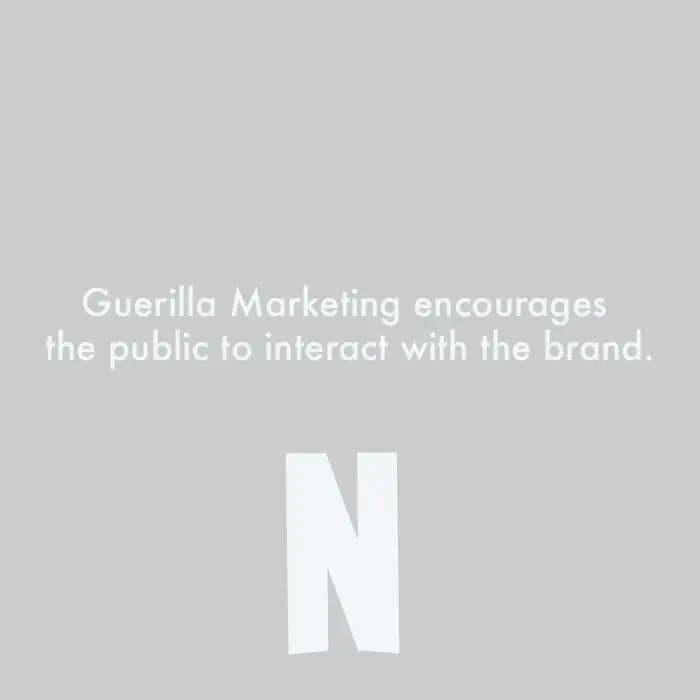 The campaign was part of a major effort by Netflix to expand its brand beyond dramas. They wanted greater brand recognition from the more than $100 million they put into producing good stand-up comedy shows such as Dave Chappelle's The Age of Spin and Deep in the Heart of Texas, and future productions with Ellen DeGeneres, Chris Rock, and other popular comedians. Like all good jokes, the video ends with the punchline: Netflix is a joke.
Although some called the attempt at guerilla marketing lame, Netflix knew what it was doing. Even critics were forced to admit that the video gained traction, and, at the time, was one of the top-trending videos on YouTube.
Guerrilla Marketing: Netflix is (not) a joke
Guerilla marketing works not only because it piques the curiosity of a target market but because it is capable of snowballing on social media. The variety of approaches Netflix takes with their guerrilla marketing efforts demonstrate how diverse and powerful the brand can be. Luckily for smaller businesses, it's possible to utilize guerrilla marketing tactics on a tight budget and—if done right—reach an enormous audience through the resulting social media buzz.
Do you have a favorite guerrilla marketing campaign? Tell us about it in the comments below!