As one of Chicago's premier digital agencies, we've worked hard over the years to build our name as a leading provider of branding, culture, and creative strategy services. We've developed a passion for delivering strategies that reflect the exact vision of our partners, all of whom have been incredibly supportive of Mabbly as our team grows.
Our hard work is paying off. Clutch, a research, ratings, and reviews platform in Washington, DC, recently released a report announcing the best advertising and marketing agencies in Chicago in 2018, and Mabbly is included on the list as a top agency.
Mabbly was evaluated highly by Clutch thanks to our expertise in digital marketing and other services. The research methodology maps service providers for their industry expertise and ability to deliver results that satisfy their clients' business needs. We feel honored by the recognition because thousands of companies vie for a top spot amongst Clutch's ranking of the best agencies nationwide.
Clutch also helps companies build their online reputation through conducting verified client reviews. Our partners have taken the time to speak with Clutch firsthand to share their experiences working with Mabbly. Their feedback motivates our team, even more, to continue pushing our creative limits and deliver out-of-the-box ideas.
Check out our full reviews: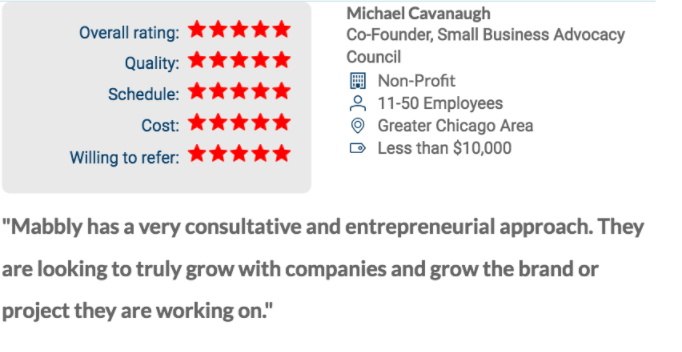 Our approach to branding has always been to focus on the client and fully understand their identity and vision before delivering a sound strategy. We're proud of the work we've delivered so far and it's gratifying to hear our partners feel the same way.
We'd like to thank our friends at Clutch for including Mabbly in their ongoing research of the best ad & marketing agencies in Chicago. We look forward to continuing to develop our presence as a top creative and digital agency in 2018.