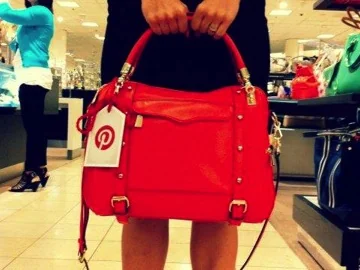 You most likely have a
Facebook page for your retail business
, and maybe even a
Twitter account
. However, if you're a small to mid-size retailer, you might be overlooking Pinterest. Pinterest is a
social media
network that acts as a digital "pin board." Users, or pinners, create "boards" where they post (pin) pictures, recipes, coveted fashion, and whatever else interests them, and the site has turned into a cash cow for retail.
Adobe found that the revenue generated per visit (revenue that comes from customers visiting the site via social media click-through) is 65 cents with Pinterest, ahead of the 62 cents with Twitter, but still far behind the $1.24 with Facebook. Although, when a customer does find your online retail site, they are more likely to have a larger bill at checkout. Pinterest users that follow links to a retailer's web site have an average order of more than $199, while Facebook and Twitter's averages are less than half, generating around $92 and $58, respectively.
Pinterest's reach is only going to increase going forward. Pinterest is currently the fourth-largest social media network, with more than 58 million unique users in March 2014 alone. The site is surpassed by the social media champion, Facebook, which had nearly 199 million users, Twitter with 114.3 million users, and LinkedIn with 71.1 million users. Pinterest's upward trend has inspired $3.8 billion in investment from venture capitalists. Overall, there have been more than 30 billion pins since the company's inception in 2009, and it has grown by nearly 50 percent in the past six months (750 million boards have been created in that time).
Large retailers have created elaborate Pinterest-centric strategies. Nordstrom, for example, advertises products in its store that were "top pins" on Pinterest – the item in the store is displayed with a tag that features Pinterest's signature red 'P.'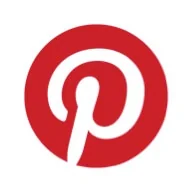 Is Pinterest the right network to reach your customers?
When designing a social media strategy
and choosing
a
network or platform
or
any other type of media
, think of your customers before you get too excited about general statistics. Pinterest's user base is 71 percent female, with 33 percent of American women and 8 percent of American men using Pinterest (up from a previous 25 percent and 5 percent, respectively).
Who are these Pinterest users? Apparently, they are more grown up than the group that comprises Twitter or Instagram followers. More than 20 percent of adults in the U.S. use Pinterest, which is up by six percent from 2013. Pinterest trails only Facebook and LinkedIn in adult usage.
Pinterest users are primed for shopping. The social network can be beneficial to many different businesses, but it has been most lucrative for online retailers. The chart below was created by Buffer and it shows how users browse Pinterest, and it is identical to the buying decision process. Via Pinterest, you can engage with your customers at every step of the buying process, enticing them from browsing to purchasing.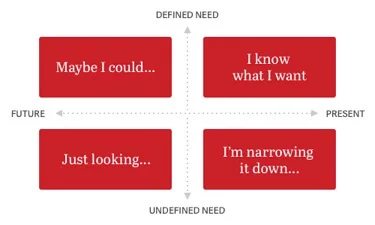 Unlike
Facebook
,
Twitter
, and LinkedIn, Pinterest users don't come to the site to talk about themselves. Pinterest users log onto the site to search their interests and possibly find new ones – the focus is on the content, not the user. Visitors are excited about something and they come to Pinterest to immerse themselves in it. That's why it's no surprise that 70 percent of brand engagement on Pinterest is generated by users and not by the brands, and those pins go viral. Approximately 80 percent of pins are repins (similar to sharing on Facebook and retweeting on Twitter).
Pinterest has also created "Related Pins" so almost every pin (more than 90 percent) comes with a suggested post, and so on. The repinning of Related Pins has recently grown by 20 percent. The real growth, however, is coming from the mobile segment. Pinterest appears to be a great resource for businesses appealing to the smartphone toting crowd. Pinterest reported that 75 percent of its traffic comes from its mobile app and mobile traffic grew by 50 percent in 2013.
How to do Pinterest the right way
Although Pinterest is relatively new among social media platforms, it has already been studied extensively with more data to come. Research has investigated visual characteristics like textures, colors and subject matter, as well delving into Pinterest strategy. One examination revealed that Paula Deen's cucumber salad photo is a good guide to the "perfect image."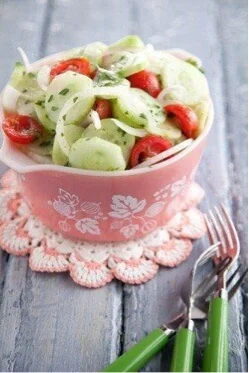 This photo was repinned 307,000 times and liked 8,000 times, with more than 300 comments. This research yielded that the perfect image:
Has no human faces
Has little background
Uses multiple colors, preferably with a red tone (blue has the worst results) and with moderate light and color (stick to around 50 percent color saturation)
Has vertical orientation (portrait style)
Take out the guess work and use a site like Canva to streamline your Pinterest usage. Canva comes with a premade Pinterest photo template that makes your image the perfect, appealing size (736×1103 pixels). Infographics are popular for click-throughs because they are typically illegible from the Pinterest site, but infographic titles are key to pique the interest of browsers.
The success of your Pinterest strategy is hinged on your activity. Your Pinterest revenue is dependent upon how many users you follow, the amount of pins you have, and the number of boards that you have created and maintained. As with any social media network, the more you interact, consume, and generate, the more the system works for you. Try to focus your posts on trending topics and creating a call to action. Historically, these pins have produced the greatest return.
The best time to pin during the day is between 2 p.m. and 4 p.m. (EST), and evening pins should be made between 8 p.m. and 1 a.m. (EST). However, people are different and those time frames might not be best for your business. Remember what we said in the beginning – track your specific customers' behaviors and rely on that data first. Pinterest has an analytics tool to help you decipher your customers' Pinterest usage for optimal results.
Pinterest initially started working with retailers free of charge, but it has recently started testing services that would let it charge retailers for promoted pins, similar to ads and what you have experienced on Facebook. However, Pinterest is interested in helping retailers generate revenues from the social network.
"Rich pins" are pins of products that come with product information, price, and availability. Rich pins require Pinterest's approval and likely the assistance of a developer (some code is required for rich pins). Pinterest also has a private board function that allows you to create and curate a board as you would a public one. However, as it's private, you can develop the board before making it live for all to see.
Using Pinterest is free and easy, a growing number of Americans are engaging in the social media site, and retailers are generating more revenues per transaction from Pinterest click-throughs than any other social network. If you are an online retailer looking to reach a growing portion of Americans that are typically already geared for shopping, and you are capable of posting engaging images related to your business, Pinterest may be your best friend.