The people have spoken thanks this year's "Art Everywhere US" digital marketing campaign which featured 100 paintings, prints and photographs at www.ArtEverywhereUS.org where all Americans had an opportunity to vote for the most all-American image.
The responses have been tabulated and the top 58 pictures will be viewed on digital billboards in Times Square when "Art Everywhere US" officially kicks off its tour on August 4. After the New York launch, the chosen 58 images will be seen through the end of August in all 50 states via 50,000 public displays.
Digital projections will offer a free Blippar app that uses image recognition to release augmented reality experiences, audio guides, and other art-related content to those who hold their smartphones up to the digitally represented artwork. Static installations include billboards and posters at bus stops, subway platforms and airports terminals.
To create content for "Art Everywhere US" the Outdoor Advertising Association of America (OAAA) worked with the Art Institute of Chicago, the Dallas Museum of Art, the Los Angeles County Museum of Art, the National Gallery of Art, Washington, DC and the Whitney Museum of American Art, New York. Says OAAA President and CEO Nancy Fletcher, "We are thrilled that five extraordinary museums are enabling us to bring America's artistic heritage directly to the people."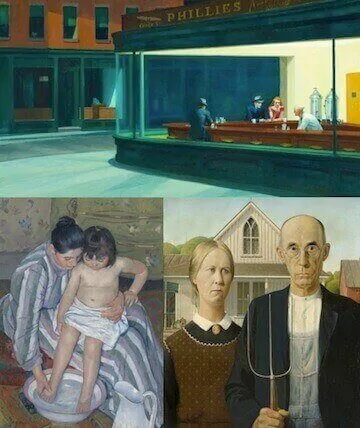 "Chicago is a world-class city with phenomenal cultural institutions that house iconic works of art," adds Chicago Mayor Rahm Emanuel. "I am proud that the Art Institute of Chicago, which TripAdvisor named the number one museum to visit in the US last year, is providing 12 paintings from its renowned collection, including the most popular painting 'Nighthawks'."
As mentioned, Edward Hopper's "Nighthawks" (1942) received the greatest response from voters across the nation. Mary Cassatt's "The Child's Bath" (1893) placed next, followed by Grant Wood's "American Gothic" (1930). All three pieces are in the permanent collection of the Art Institute of Chicago where they are currently on view.
Among the other works selected are John Singleton Copley's "Watson and the Shark" (1778); Gilbert Stuart's "George Washington" (1821); Fitz Henry Lane's "Boston Harbor, Sunset" (1850-55); Frederic Edwin Church's "The Icebergs" (1861); Winslow Homer's "The Cotton Pickers" (1876); Thomas Moran's "Green River Cliffs, Wyoming" (1881); John Singer Sargent's "Nonchaloir " (1911); Imogen Cunningham's "Magnolia Blossom" (1925); Margaret Bourke-White's "World's Highest Standard of Living" (1937); George Tooker's "The Subway" (1950); Jasper Johns's "Three Flags" (1958); Roy Lichtenstein's "Look Mickey" (1961); Andy Warhol's "Campbell's Soup Can" (1964); Robert Mapplethorpe's "Ken Moody and Robert Sherman" (1984); and Cindy Sherman's "Untitled" (2008).
Now that the voting is over, www.ArtEverywhereUS.org has become an interactive art gallery where visitors can track the real locations of the touring installations. "Art Everywhere US" is also live on social media outlets such as Twitter , Facebook, Instagram and Pinterest.