Keyword research can inform both organic and paid tactics. It can be tough to rank for certain keywords when you're up against stiff competition, but that doesn't mean you have to break the bank in the process.
Though Google Keyword Planner is a great tool for SEO beginners, a freemium tool like SEMrush can provide a lot more insight for your developing organic keyword strategy.
What is SEMrush?
SEMrush is a popular SEO tool that you can use to find specific and profitable keywords for your website or competitors' site. The key strengths with SEMrush are:
Understanding your current success through a number of analytics tools

Breaking down your competitor's keywords, and their associated search engine rankings

Delving into keyword trends

Finding recommendations for keywords that your competitors haven't touched
Understanding your competitors and their keyword strategy can be very insightful. Without this information, you're essentially fighting them blind.
Understand Your Current Success
Having real data is important for building a successful SEO strategy. Real data comes from real humans using search, and targeting a real human experience encourages more engagement.
SEMrush allows you to check how you're doing with your keyword research. You'll gain insights by first inputting your website's URL. SEMrush will then display a status report that can be toggled to show the past week, month, year, or all time data.
The analytics suite shows the following data: organic search volume, organic traffic over time, paid search volume, paid search traffic over time, number of backlinks, referring domains and IP addresses, display advertising, and traffic by geographic channels.
The data is great for understanding how people use the desktop and mobile version of your website. Also, it shows how Google indexes results by the country. You can start researching keywords by signing up for the free trial version of their keyword research tool, and inputting a term into the system. Whether you want to search in a specific region of your country or get variations of keywords people might want to rank for, SEMrush offers many useful options.
Break Down the Keywords Your Competitors are Ranking For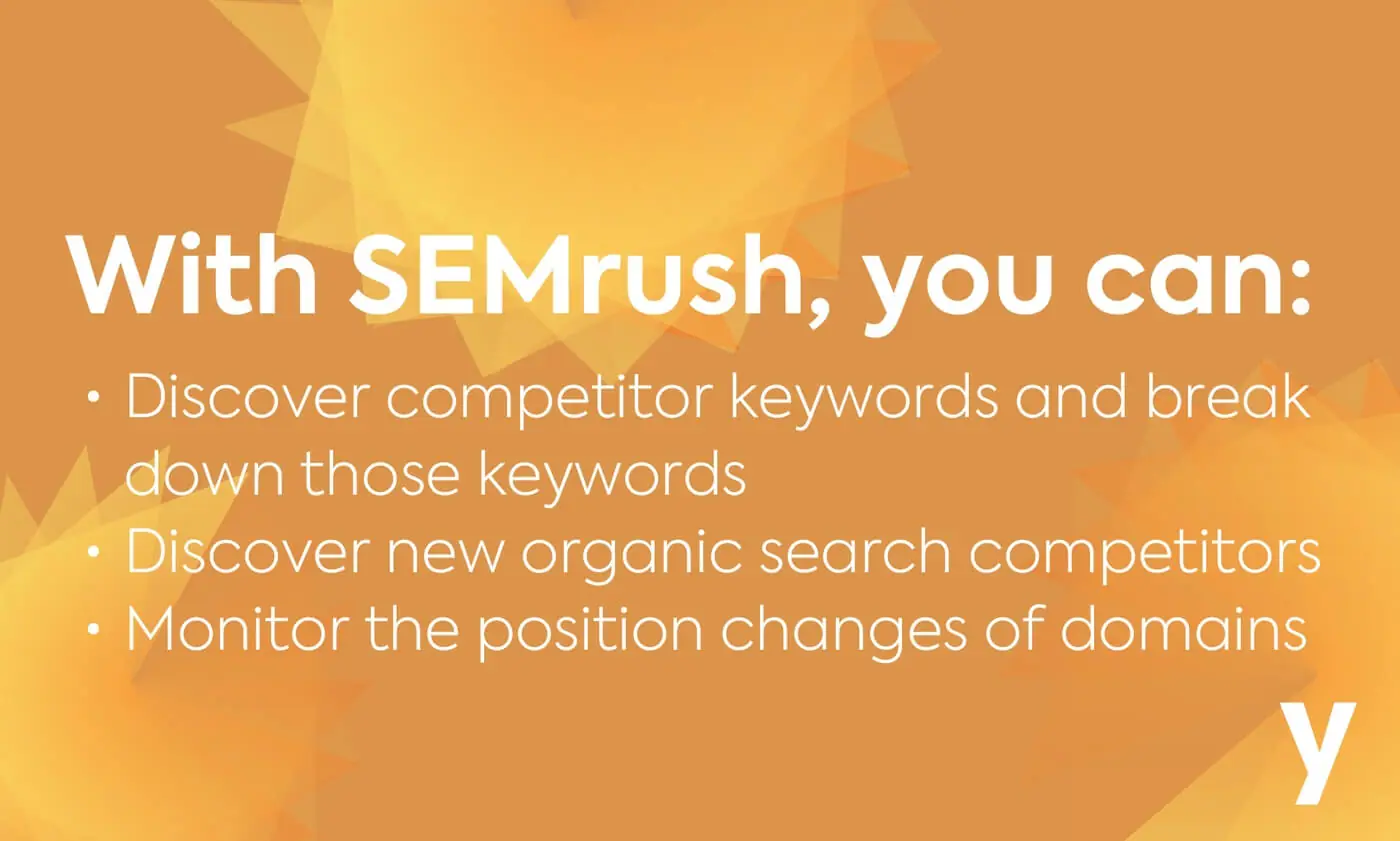 You can use SEMrush to determine which competitors are using SEO tactics to rank for keywords similar to those used by your brand. SEMrush gives you an edge by showing what brands are similar to yours thanks to organic research and by learning from your competitors' behavior.
As a result, you'll be able to:
Discover competitor keywords and break down those keywords

Discover new organic search competitors

Monitor the position changes of domains
When you know which keywords the competition ranks for, it will help you to discover new keywords, create similar (but better!) content, and possibly outrank them. By following this strategy, you can create more leverage for searchers to choose your brand. It's also wise to see if you have any indirect competition (those that are in your niche but sell different products and services), and look at how they rank. .
These SEMrush features can help to inform your organic keyword strategy:
Domain vs Domain

allows you to see common and unique keywords for up to 5 domains. This is great for comparing organic and paid keywords between you and your competitors. For example, you're running a mobile campaign, you'll find out how to cater more to the "on-the-go" crowd.

Keyword Difficult Tool

shows how difficult it is to rank against keywords your competitors are using. You'll find information regarding volume, results, trends, and more. This tool provides a useful analysis for what you should focus on, and what may not be worth your time and energy.
Finding New Keywords
While you might try to steal keyword ideas (and outrank) your competitors, the SEMrush Keyword Magic Tool gives you access to 2 million keyword ideas. You'll be able to group keywords in a way that allows you to segment them by topic, pick out the best ones, and save them in the Keyword Analyzer. You can then send your selected keywords to other SEMrush tools and create up to 50 keyword targeted lists.
How to Use SEMrush in Your Organic Keyword Strategy
SEMrush is one of the best tools to use when building an organic keyword strategy. Their free version is limited, so you may decide that a paid plan fits your company's needs better. Use SEMrush to track your website's SEO progress, to check on competitor rankings, and to find new keywords opportunities to dominate in your niche. Need more assistance in this matter? Work with digital marketing agency Mabbly for expert advice in crafting the best organic keyword strategy for your brand.