The viral media trend is likely to continue for a lot longer than skeptics and critics have theorized. Facebook may be reconfiguring algorithms, but digital marketers and media outlets are still looking, and creating, the next big thing to sweep the web. Niche digital marketing industry players are sprouting up with the goal of using viral material as a sales agent, and Distractify recently secured $7 million in a round of Series A funding. As goes viral media, so goes viral marketing, which often uses similar channels and methods to promote sales content.
Distractify has been able to cultivate quite a following on Facebook – with 668,000 likes, Facebook is a major traffic channel for the viral content site. Distractify posts articles created mostly of lists and photos, much like BuzzFeed, Upworthy, Viral Nova, and many other sites that cater to the ever-decreasing attention span, especially when it comes to reading (the current Distractify headlines read "The 47 Best Parenting Moments of the Animal Kingdom," and "38 Hilarious Warning Signs That Prove Human Beings Are Literally The Worst," among others). With 18.6 million unique visitors in the United States in May, it has edged ahead of Upworthy (10.4 million) and Viral Nova (7 million).
Distractify is planning to use the $7 million investment to quadruple its writing staff, currently comprised of 10 full-time writers, and to develop its mobile app. However, even the CEO of Viral Nova is having his doubts of the current viral media market. He has said that expanding an in-house staff may be misguided considering that viral websites are in an obvious bubble that will eventually burst.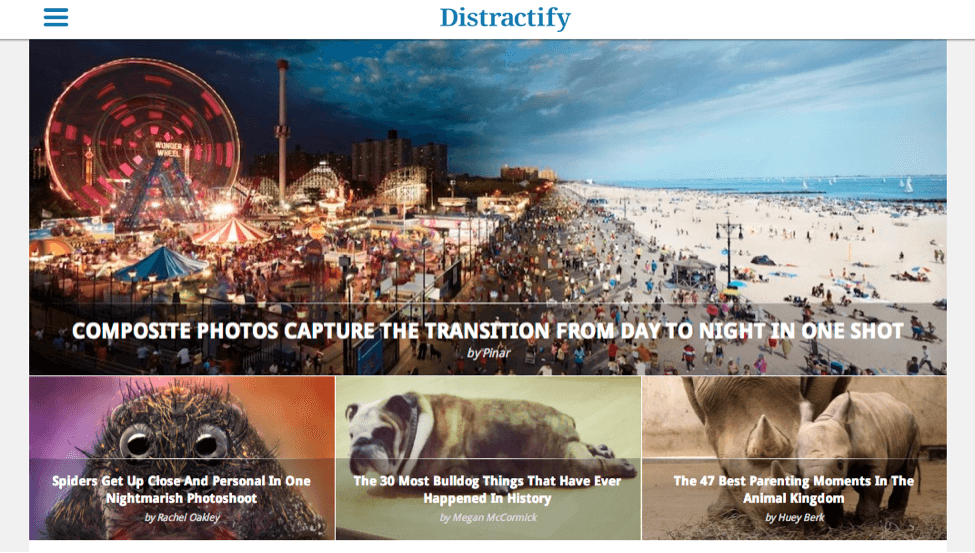 After all, Viral Nova's unique visitors in the U.S. dropped by more than half from 20.3 million to 8.7 million from January to February 2014 alone, Distractify felt a slump of 3 million unique visitors during the same time, and Facebook announced that it is reworking its content-distribution algorithm to make sure that "high-quality new content" gets the center stage on news feeds. However, Facebook still accounts for 80 percent of Distractify's traffic.
Just as marketers are mostly concerned with conversion, Distractify is likewise looking beyond its viral success and seeks to establish a stable audience because it does not believe that its Facebook-generated success can be maintained via social media virality alone. This diversification is likely to come in the form of branded content and native advertising.
Although many people are hailing the death of viral media and viral marketing, it is too soon to call the game. BuzzFeed is on the threshold of a $200 million funding round while more competitors are trying to break into the market and capitalize on the trend. Also, people keep clicking on the links. Facebook may want to steer away from being a content discovery platform, but the fact of the matter is that millions of web users are clicking and sharing these viral links, continuously increasing the contagion.